Shipping Software
Why Ship with CPS?
Product Features
Support Services
Product Demos
Business Partners
Frequently Asked Questions
Get a Free Quote


Problem Solving Solutions
Lowers Shipping Costs
Easy Connectivity
Fast Parcel Processing
Increased Customer Satisfaction
Shipper Approved
Track a Package
SHIP eLERT Notifications


Other Resources
Business Hours
Careers
Copyrights & Trademarks
Feedback
Site Index
Privacy Policy
Product Updates

Multi-Carrier Shipping Software Solutions - Making Logistics Fast and Easy
From Harvey Software, Inc.
Harvey Software is a leading developer high volume multiple carrier shipping software solutions, providing businesses with best shipping software solutions for over 36 years. Harvey Software's Computerized Parcel System (CPS), increases profits by dramatically boosting domestic and international shipping efficiency and reducing shipping expenses. The CPS shipping software system accomplishes this by greatly reducing errors, providing a seamless connection to ecommerce and other in-house systems, increasing business rule compliance, automatically shopping between carrier services for the best rate for normal or time sensitive shipments, and empowering shippers with real-time decision making tools. CPS accomplishes all this with a single shipping solution interface for multiple-carrier processing, reducing the inefficiencies of single carrier software solutions. There is no additional carrier software needed to ship packages with CPS shipping software. CPS shipping solutions support UPS®, FedEx®, USPS® and so much more!
Much more than just software for printing shipping labels, CPS is a carrier compliant high volume global shipping solution for fast package shipping that includes advanced tracking features to augment carrier offerings and cut customer service costs. CPS can be purchased, downloaded, installed, and supported all over the Internet. CPS is very affordable with toll-free technical support, but no long-term contracts.
Learn why you should ship with CPS shipping software...
New Year's Special
Buy One Get One 30% Off!

For a limited time purchase, or renew, one year's

service and
get a second year at 30% off!

Call 800-231-0296 Today
Use Promo Code: CPSBOGO012020

This offer is only available when you add a second year of service for CPS Logic or CPS Logic Enterprise workstations purchased between January 1, 2020 and January 31, 2020. Promo code needed at time of purchase.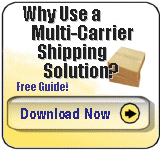 ---
Most Recent

Update:
Spee-Dee Delivery
Rate and Service Update for 2020
---
Postal Requirements for eVS Lowered
Want to know more?
Check out our latest Blog article...

---
Featured Business Partner

---

---
Subscribe to Our Newsletter Today!
Receive Our FREE Monthly Newsletter...

---
Carriers Supported by

: